Maryland Department of Health Investigating Cases of Severe Lung Illness in People Using E-Cigarettes
At this time, no reported cases linked to MMCC patients

Linthicum, MD – (August 29, 2019) – The Natalie M. LaPrade Medical Cannabis Commission (MMCC) is assisting the Maryland Department of Health (MDH) to investigate several reported cases of severe lung illness in people using electronic cigarettes, also commonly referred to as vapes. MDH has identified five individuals who in the last two months developed severe lung illness after using electronic cigarettes or vapes.At this time, none of the reported cases involve Maryland medical cannabis patients.
According to MDH, the cause of these illnesses is not yet known and has not been linked to any particular vape device, brand, or substance. People who became ill reported using a variety of vaping products, including those containing cannabis or THC. If any individual experiences trouble breathing, the Maryland Poison Center recommends seeking immediate medical attention.
Medical cannabis patients who use vape products are encouraged to report any unexplained serious respiratory illness to the MMCC and their certifying provider. Patients and certifying providers may report suspected cases to MMCC via email at reporting.mmcc@maryland.gov. In addition, patients and providers are encouraged to report suspected cases to their local health department. Any medical cannabis licensee who receives a report of a vaping-related illness must promptly report the incident to the MMCC.
Patient safety is paramount to the Commission, and we are working with the Department of Health and others to determine whether any medical cannabis patients may be experiencing similar symptoms, said Acting MMCC Executive Director Will Tilburg.
The investigation in Maryland follows reports of vaping-related illness in at least 22 states, including one death. The Centers for Disease Control and Prevention warns that vapes, whether containing nicotine or cannabis, may contain harmful and potentially harmful substances. On June 14, the MMCC issued an advisory notifying patients and other stakeholders of potential lead contamination of cannabis liquids in vape cartridges. Following the advisory, the MMCC instituted enhanced laboratory testing requirements to further investigate the potential presence of lead and other heavy metals in vape cartridges.
For additional information, please see the MDH communication issued on August 28, (attached) or visit https://phpa.health.maryland.gov/OEHFP/EH/Pages/VapingIllness.aspx..
Article chiefly tobacco vaping...
Vaping the FLOWERS is OK
Vaping the Oils?? gotta see, probably fine..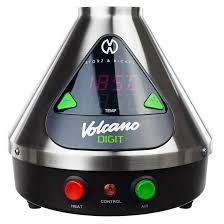 Volcano - the Premier Medical Convection Vaporizer